Most men don't like trying on different types of jeans. Given the variety of jeans available for various men's body types, trying them on is quite a tedious task. Today, types of jeans for men are one of the coolest wardrobe pieces of clothing that they like to wear. There are several types of jeans styles. Once you find your ideal fit, shopping for jeans becomes a lot easier. If you want to know which category of men body types you fall into, or the types of fit in jeans, then keep reading.
Loose jeans provide lots of space around the butt and thigh so that it doesn't stick to your thighs too tight. If you have a big waist, loose fit jeans will be quite comfy. You can also wear this denim for quite a long time as it won't make you sweat a lot around the thighs.
Skinny guys prefer slim fit jeans to help them give shape to their legs. It has a skinny fit with tapered leg opening, which skinny people prefer as it feels comfortable yet stylish. Slim fit jeans often look good with slim-fit tees and shirts.

Regular fit jeans are jeans that fit straight from hip to thigh. They are having a mid-rise and have a large leg opening. People who are neither too big-boned nor thin prefer to wear this type of jeans.
Skinny jeans are tight jeans beginning the waist down to your ankle. They don't offer a lot of mobility and are worn as a style statement. Skinny jeans aren't suitable for thicker guys, as they can be too tight. Although many people suggest skinny guys to wear oversized clothes to balance out their frame, jeans should be determined based on body type to make them look classy.
Tapered jeans are quite comfortable in the thigh area but are tapered down to the ankle. Highly popular today, tapered fit jeans mean they have wider at the top but narrower at the bottom. Guys who have bigger waists and thighs will find this a more comfortable fit.
Narrow fit jeans mean that a tight leg has no impact on the portion of the jeans that are above the knee. However, it has a tighter fit from below the knee.

Relaxed fit jeans are excellent for people with thick thighs as it gives them a more comfortable fit. It also provides them with extra room around the waist. Relaxed fit jeans prevent them from sweating, which can lead to rashes if worn for too long.
The rise in any type of jeans is measured by the gap between the waist and the crotch. Worn by skinny people, low-rise jeans generally sit below the waist. Low rise jeans are one of the coolest clothes today.
Mid-rise jeans are deemed to be the ideal rise as it is neither too low nor too high. People with bigger boned structures prefer to go for a high rise as it allows them to sit comfortably above their navel and prevents any slip-ups.
Book a hotel on Cleartrip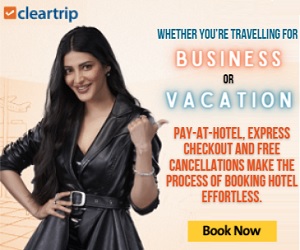 Whether you're travelling for business or pleasure, Cleartrip makes it a simple and delightful experience to book hotels, flights and activities all in just a few clicks. Our curated and verified list of 3 lakh plus hotels across 28 thousand plus cities from around the globe ensures our travellers have enough options to choose from and complete their online hotel booking at ease. Visit cleartrip.com and find the lowest fare, and accommodation available when you travel anywhere in India.